Need your cake in a hurry? Choose from fun presets for a delicious cake design in under 3 business days!
What you get when customizing:
Colorful background and white designs

Choose your Dotcake Size, flavor, and nonpareil colors
Choose your Dotcake flavor
Choose from our stock designs

NOTE: Our magical online Dotcup customizer is meant to help you envision the best cups for your occasion! Some browsers may display varied results. We ask that you trust our lovely cake decorators. Every design is made from our scrumptious nonpareil dots. Our team aligns your design 100% by hand, so it always sits beautifully on your cake! <3

_
If you don't see the pick-up date you want, please understand that our ovens are full for pick-up on that date. Our cakes keep refrigerated for up to 5 days, so feel free to order a day or two in advance. We are CLOSED Sundays & Mondays.
Regular price
Sale price
$24.00 USD
Unit price
per
Sale
Sold out
Our Dotcakes Customizer works best on Safari. In other browsers, various fonts may display in the customizer. Your cake will have the bold font that appears in our website images.
Share
View full details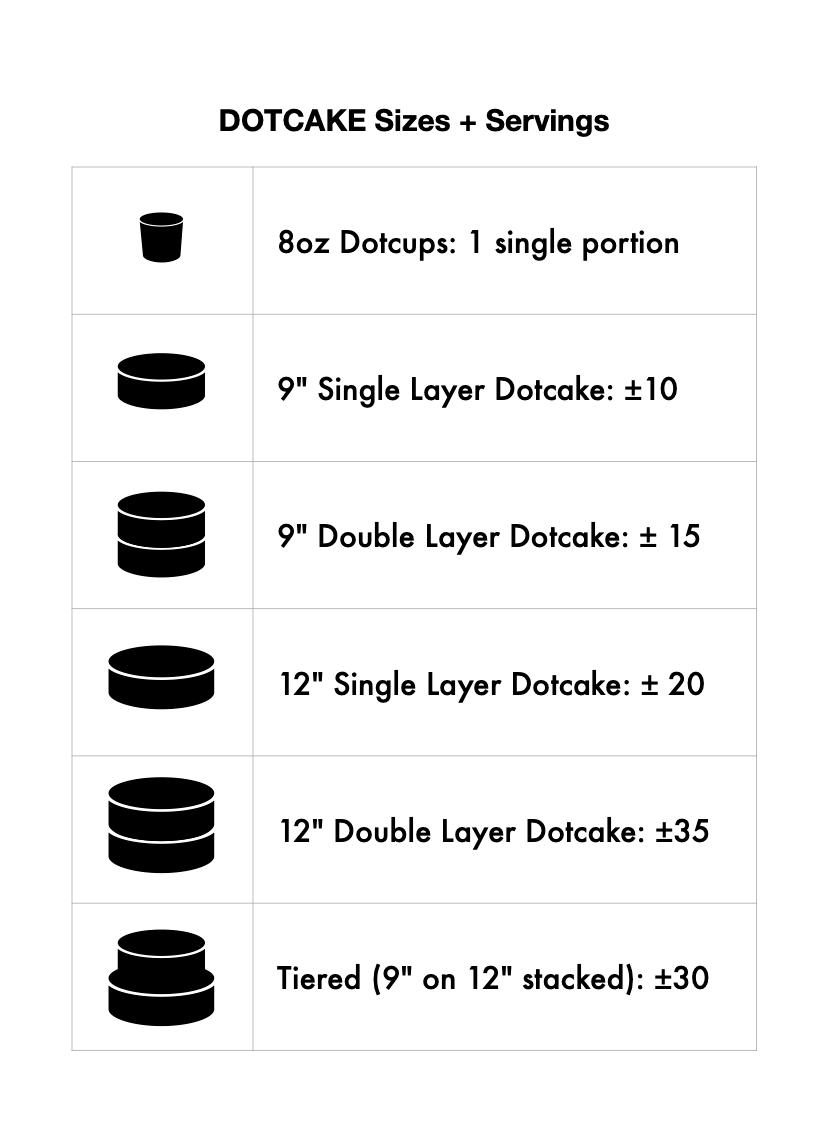 Frequently Asked Questions
How many people will a Dotcake serve?

8oz Dotcups: 1 single portion

9" Single Layer Dotcake: ±10
9" Double Layer Dotcake: ± 15

12" Single Layer Dotcake: ± 20
12" Double Layer Dotcake: ±35

Tiered (9" on 12" stacked): ±30
What is a tiered cake?

A Tiered Dotcake is one 9" Cake stacked on top of a 12" Cake.
How long will my Dotcake keep?

Your Dotcake will last in the refrigerator for up to 5 days.
Why can't I get a cake on the pickup date I want?

Due to high demand, our ovens are full with made to order Dotcakes and Dotcups, so the first available delivery date may be a few weeks out.